Welcome to CJ's Butter Blueberry Crumble Giveaway.
I am very pleased to have partnered with some wonderful bloggers around to bring you, yet another awesome giveaway.
Sponsored By: CJ's Unique Boutique
Hosted By: Life With My Two Kids
Co-Hosted By: Bargain Bandit, Southern Belle, Tales from my so called Life, The Nurse Mommy, Miss Momvocate, Krazy Kat Freebies
First I'd like to that the Sponsor and Co-hosts for taking time to be a part of this giveaway
You can read the review on CJ's Unique Boutique here.
CJ's products are absolutely wonderful. Just want to add that there is a scar reducer that my mother has fallen in love with. It works perfectly.
What you are entering to win: CJ's Butter Blueberry Crumble

Enter on the rafflecopter below. Good Luck!
a Rafflecopter giveaway

Disclosure: I received no compensation for this publication. My opinions are my own and may differ from those of your own. Tales from my so called Life is not responsible for sponsor prize shipment.
Most people often take advantage of free WiFi service at public hot spots like restaurants, malls, fast food chains, airports, and hotels. What most of us are not aware of is the security weaknesses of these WiFi hot-spots  Since most are unencrypted, data security is not really assured. Important information like credit card numbers, bank accounts, passwords etc. can be accessed by hackers.
This is where Private Communications Corporation comes in. The company is devoted to safeguarding individual privacy and corporate data security online by means of Private WiFi, which is a software that encrypts all the data entering in and out of a computer. This makes it impossible for hackers to track any activity on any public network.
Private WiFi is always on and instantly connects to one of the company's secure servers every time you connect to the internet. It's just like an antivirus or firewall software. You'll see that it's working through a task bar icon at the bottom of your screen. Private WiFi is a Virtual Private Network (VPN) using industry standard 128-bit encryption. Installation is fast and easy and it works everywhere. They offer a three-day free trial to customers. If ever you decide to subscribe, their payment methods are PayPal and all major credit cards.
Do you know that up to 95% of all household dirt and harmful pollutants enters our home are right on the bottom of our shoes? As a parent with young children, keeping them well and healthy is always my main priority. And to think about all the dirt, bacteria, chemicals, dust on the bottom of our shoes that gets tracked into our home makes me cringed. What's even shocking is, the dirt and track in from our street shoes can cause cancer, developmental delays, learning disabilities, respiratory infections and a host of other diseases for all members of the family including pets.
Luckily, products like Dr. Doormat can help remove up to 99% of the debris on the bottom of our shoes leaving those unwelcome guests behind. Dr. Doormat is the first antimicrobial treated doormat designed for home use. The mat is infused during the manufacturing process with a specially formulated antimicrobial treatment that permanently bonds to the fibers of the doormat and cannot be tracked through your home. So the moment your shoes makes contact, Dr. Doormat instantly penetrates the cell membrane of the invading microbes (like popping a balloon with a pin) and rendering them harmless without poisoning them.
That is why I was thrilled to have the opportunity to put Dr. Doormat to test myself in our home. When the doormat arrived, I hurriedly set it by the front door before the boys come home from baseball practice. As soon as the two mud trackers came rushing through the door it was covered with mud! But I was glad that Dr. Doormat was there to trapped in all the mud and who knows what other yucky stuff was trapped in there that are not visible to the eye.
Overall, I love Dr. Doormat! And I am very pleased with its quality and style. It is attractive and works like a charm in trapping all the dirt and mud. And I love the fact that it is machine washable. Now I don't have to worry about my boys with their muddy shoes or the little one tracking dirt from outside.
Also, Dr Doormat is Eco friendly. Each floor mats is woven from recycled and virgin raw materials using non-toxic resins and pigments.
To learn more about Dr. Doormat you can visit their website or connect to them via social media.
//SHOP//
//CONNECT//
Tales from my so-called Life received a complimentary product from Dr. Doormat to test and to facilitate this review. All opinions express are my own.
Our eight year old nephew is very active in sports of all kinds; basketball, swimming, soccer, and badminton. He also enjoys biking. On his last birthday a few months ago, he asked us to buy him a kick scooter. He actually wanted one way before his 8th birthday, but we deemed it too dangerous and told him that we will instead give him one once he is taller. A kick scooter, for those who do not know, is a human-powered vehicle with a handlebar, deck and wheels that is propelled by a rider pushing off the ground.
We first checked out the website of his chosen toy store for the type of scooter to buy and if our budget permits it. He picked out the model he likes, and we proceeded right away to the nearest branch of the toy store. His scooter which is made of aluminum has two hard small wheels and is foldable for easy storage and convenience. Now he seldom uses his bicycle and would go outside playing with his scooter. He said that he likes it more because it is lighter and is easier to maneuver between obstacles as there are no protruding pedals.
Hearing how he love and enjoy his new scooter puts a smile on my face. I am also thinking of buying an adult scooter myself because it can be a nice way to connect and build a strong bond with him. Scooters are a great tool for commuters too. Kick scooters for adults generally have more durable parts and are designed with wider decks, hand brake, and larger wheels for smoother transportation instead of less weight and portability.

Welcome to the Summer Adventure Event featuring Banzai Plummet Falls Adventure Slide Water Park Giveaway!
 organized by: Mom to Bed by 8
Special thank you to our co-hosts: Celebrate Woman Today, Capri's Coupons, Jack of all trades, Master of Mom and The Nurse Mommy.
Looking for something to entertain the kids this summer? Then it is your luck! Enter the contest below. Remember the more entries you do the better chances you have.
The Plummet Falls water slide/pool allows kids to plummet down the Banzai waterslide, refresh in the splash pool and get drenched in the falls, all without leaving the backyard. This water slide park comes with everything you need for hours of summertime fun.
One lucky winner will receive a Banzai Plummet Falls Adventure Slide Water Park!
Giveaway ends June 5th at 11:59pm, open US, ages 18+. To enter please use the Rafflecopter form below. Good luck.
Disclosure: I received no compensation for this publication. My opinions are my own and may differ from those of your own. Tales from my so called Life is not responsible for sponsor prize shipment. Please contact teri@mompoweredmedia.com with questions or to see your business or blog featured on the next big event!
My little girl loves to dress up. Being a princess, a ballerina, a pirate, and a kitty cat are among her favorite characters that she love to transform herself  into. Dress up play is an incredibly fun activity for kids. It is also a very important one in helping them build up their vocabulary as well as their confidence. That is why I was thrilled to get a chance to check out some of the amazing costumes from Anytime Costumes.
I picked out this Catarina Costume in 2T for my little girl to try out. I know then when it arrived that I was doing good; she couldn't wait to get it out of the package and put it on right away…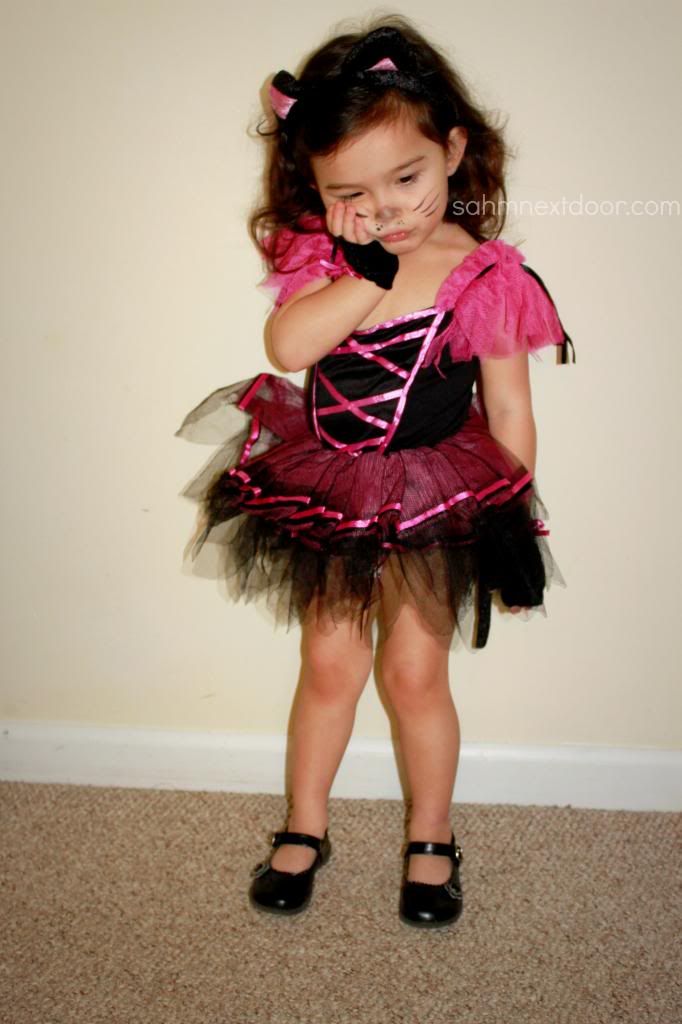 Well, can you blame her! Seriously, this costume is stinking cute. Though it runs a little bit big around the shoulder area. And the ballerina skirt is kind of short, but with tights it should be alright. As for the quality and material, it is durable enough to hold through numbers of dress-up sessions. The costume also comes with a stick on tail, gloves and a headband that are also the cutest.
All in all, my daughter and I are very pleased with Catarina costume from Anytime Costumes. It is extra cute, fun and a huge hit for our little girl. It is perfect whether for Halloween or just for dressing up.
So, if you are looking for new, exciting, costume and accessory, Anytime Costumes has a great selection of costumes for infant, children and adult costumes, teen, sexy and couples costumes; even pet and mascot costumes, as well as seasonal holiday decorations and props.
Buy it
Connect:
Tales from my so-called Life received a complimentary product from Anytime Costumes to test and to facilitate this review. All opinions express are my own.
Disclosure Policy: This policy is valid from 28 August 2011. I am the owner and creator of this blog. I will sometimes get paid by advertisers to give my opinion on products, websites and other topics, but my paid compensation will not influence the content or topics of my posts. Even though I receive compensation, my opinion and findings of the products, websites or other topics that I discuss on my blog will be my own opinion, findings and beliefs. These opinions are my own and any quote, claim or statistic should be verified by the product owner or manufacturer.